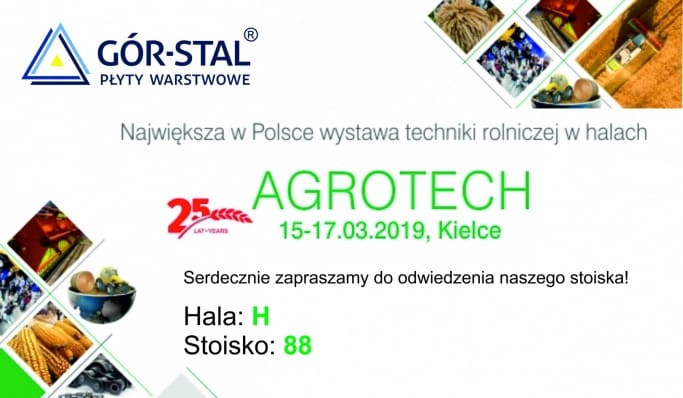 2019-03-04 13:20:51
We invite you to the jubilee 25th edition of the AGROTECH fair, which will take place from 15 to 17 March in Kielce. This is one of the most important events on the map of agricultural industry exhibitions in Poland. Tens of thousands of farmers visit the event every year.
The International Agricultural Technology Fair is a quarter of a century of history and transformation of Polish agriculture. The exhibition will be available in 11 halls. In 2018, it gathered over 700 exhibitors from 24 countries around the world. As a reminder, last year's exhibition was seen by over 70,000 visitors.
Such an important exhibition cannot be missed by the Gorlice company, which will present its GORLICKA® sandwich panels and termPIR® thermal insulation panels. Sandwich panels are a commonly used building material for light housing industrial, warehouse and production halls, pavilions and commercial facilities, office buildings, administrative buildings, freezers, and cold stores. TermPIR® boards provide excellent insulation of buildings, from foundations to the roof.
- Gór-Stal is trying to support construction investors, also from the agricultural sector. Conducting this type of investment for a modern farmer can be a complicated undertaking, primarily due to the greater than ever scale of production and the need to comply with stringent requirements regarding, among others thermal and humidity conditions in livestock buildings. Therefore, the building materials used and the technologies used are of key importance - says Jarosław Wilk, Managing Director of Gór-Stal Sp. z o.o.
At this year's fair, we will present, among others, termPIR® AGRO insulation board, which was designed primarily for livestock buildings. Its use means clear savings in heating and cooling costs, which in turn translates into increased efficiency of agricultural production. The product is a properly prepared polyisocyanurate plate produced with special coatings, adapted to work in specific conditions of the agricultural sector.
We invite you to visit the Gór-Stal stand!