Everything about sandwich panels
The blog was created on the initiative of the Technical Department and aims to help our clients solve their doubts related to the subject of sandwich panels. This type of knowledge base is a collection of materials related to thermal insulation, acoustic design, thermal modernization and fire protection. Our mission and the reason why we come to work every day is one: we want the customer to receive a product that meets his requirements. Check before you choose building materials!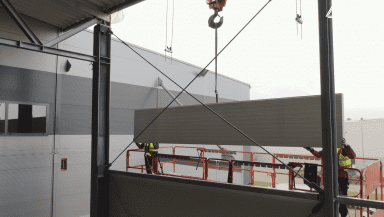 Knowledge
Advantages of steel halls with light cladding made of sandwich panels
Steel structure halls made of sandwich panels are an increasingly popular solution used in industry, in modern warehouses, sports halls, but also in food processing facilities. Their growing popularity did not come out of nowhere, and there are more and more supporters of their construction. There are many advantages, which we wrote about above. Positive opinions about them encourage more and more investors to build them, who decide to abandon the classic construction methods in favor of modern steel halls.
Czytaj więcej
Najczęściej czytany

Knowledge
What is the difference between PIR and PUR panels?
When it comes to modern roof insulation, you often hear about PIR and PUR panels. PUR is a polyurethane that was used to make sandwich panels until recently. PIR is a polyisocyanurate that is slowly replacing it. Although the two materials are similar in many respects, they differ in one important feature. What is worth knowing about both materials?
Czytaj więcej