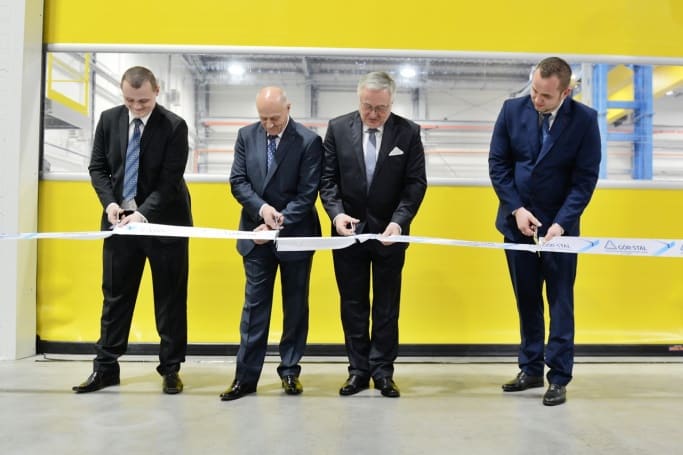 2015-02-22 12:25:09
On Friday, November 27, one of the largest Polish producers of sandwich panels with a polyurethane core opened its new factory of termPIR panels, which is located in the Special Economic Zone in Bochnia. 
The ceremonial opening of the factory was attended by about 350 people, including, for example, managers and employees of the company, its suppliers and customers, representatives of the town and the district, as well as the Church, headed by Andrzej Jeż, the Bishop of Tarnow. The whole ceremony was hosted by Piotr Bałtroczyk, a well-known satirist.  
- Creation of new jobs improves prospects for future generations. A demographic collapse may lead in the future to a serious collapse of all state structures. Today, new technologies are of great importance as they will serve us for decades to come - said Andrzej Jeż, Bishop of Tarnow.
In the Bochnia Economic Zone, the company from Gorlice launched the production of innovative PIR panels, which are used in thermal insulation systems in the construction industry. This is the second plant of this type in the country. 
- The purchase of a plot in Bochnia has scored a bull's eye. We are very pleased that we have chosen this place -  said Franciszek Kluba, the President of the Management Board of Gór-Stal Sp. z o.o.
- The newly opened facility is the second one in the Bochnia Economic Activity Zone, and others are under construction. The snowball effect starts working, and I think we should look with optimism into the future of this place. It will constitute a source of additional income for the town - said Stefan Kolawiński, the Mayor of Bochnia, during the opening ceremony.
The investment was co-financed with European funds. The investment under the name "Implementation of an innovative technology for production of thermal insulation panels of PIR type," was co-financed with funds from the European Regional Development Fund under the Operational Programme Innovative Economy, Measure 4.4 New investment of a high innovation potential.
Let us recall that the entire investment has amounted to more than PLN 50 million. The factory in Bochnia employs 50 people. The Gór-Stal Company employs 130 people in total.