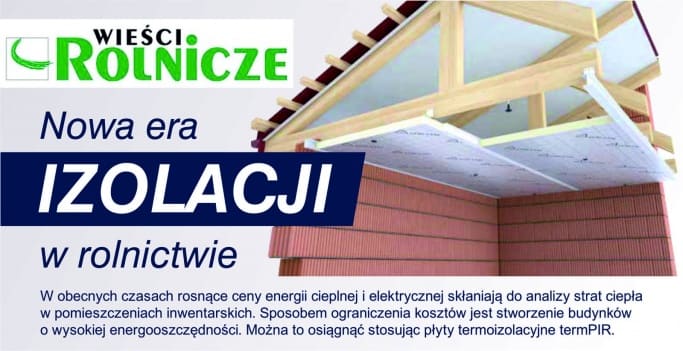 2016-02-29 09:23:04
The last issue (No. 03 (63) March 2016) of "Agricultural News" presented an article on page 43 about Gór-stal termPIR AGRO panels which have been designed primarily for livestock buildings. 
A new INSULATION era in agriculture
Nowadays, the rising prices of heat and electricity force farmers to analyse heat losses in livestock buildings. A great way to reduce costs is to create highly energy-efficient buildings. This can be achieved by using termPIR thermal insulation panels.
Specific conditions that are present in livestock buildings make the use of traditional insulation ineffective. That is why materials of the highest thermal insulation, which can serve for many trouble-free years without changing their usage parameters, are becoming more and more popular. Every investor values durability that allows for avoiding cumbersome maintenance and frequent repairs. Gór-Stal is one of the first and largest manufacturers of sandwich panels in Poland and Europe. The company offers modern insulation panels (termPIR) in various linings, e.g.: Kraft paper, glass fibre, bitumen coating, and aluminium-covered panel designed specifically for the agricultural market. Gór-stal products are used, among others, for construction of halls, warehouses, shops, cold rooms, detached houses, and agricultural buildings. It is also worth noting that it is the only insulation that has the best thermal conductivity coefficient among other producers advertising on the Polish thermal insulation market.
TermPIR AGRO created for agriculture
The Gór-stal insulation panel - termPIR AGRO - has been designed primarily for livestock buildings. When it is used, it provides significant savings in heating and cooling costs which, in turn, translates into increased efficiency of agricultural production. TermPIR AGRO is a properly prepared polyisocyanurate panel produced with special coatings adapted for use in specific conditions of the agricultural sector.
Why is it worth using termPIR AGRO AL in farm buildings?
•    The use of the termPIR AGRO panel ceiling lining provides many benefits. The panel has one of the most improved thermal conductivity coefficients equal to λ = 0.023 W/m•K. Thereby, it provides measurable savings in heating and cooling, and affects the adjustment of temperature that prevails in interiors of livestock buildings.
•    TermPIR AGRO is a specially designed panel which has excellent mechanical strength and chemical resistance. It can be cleaned using pressure washers without any problems. This is a very important parameter which helps maintain cleanliness, especially in places where animal husbandry is important.
•    Conditions that prevail in livestock buildings are strict. Therefore, unlike other insulators available on the Polish market, termPIR AGRO panels provide complete immunity to any volatile organic compounds such as ammonia, fungi and moulds, as well as nests and burrows for insects, rodents and birds.
•    Water absorption of panels remains below 2%, which means that the panel is virtually waterproof. The structure of foam with closed pores is most resistant to any kind of moisture. Precisely shaped joints of panels and properly profiled edges improve thermal insulation. Thanks to this, the panels meet the highest requirements for fire resistance, sealing against rain water, infiltration of air, and water vapour.
•    Another very important advantage of suspended termPIR AGRO panels is that they do not lose insulation parameters and long durability of material. Lightness and rigidity of panels provide easy and fast installation. They can be fixed to rafters using screws or PVC profiles. TermPIR AGRO panels can be used in agricultural buildings, for example, pigsties, barns, poultry houses, wherever ordinary insulation may not be sufficient.
Your bet on energy-efficient construction
Gór-Stal tries to support construction investors, also those from the agricultural sector. For a modern farmer, this type of investment can be a complicated undertaking, and this is primarily due to a larger than ever scale of production, and the need to comply with stringent requirements for thermal and humidity conditions in livestock buildings. Building materials and technologies used are of crucial importance. Gór-Stal has 12 years of experience and extensive knowledge of market demands. This is why it develops products and solutions of the highest quality.